Cosmetic Dentist Serving Grafton & Auburn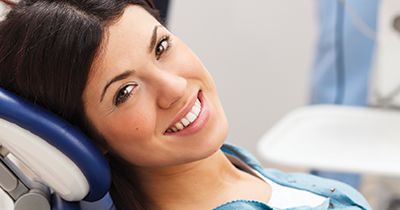 In recent years, cosmetic dentistry has become increasingly popular. More and more of our patients come to us wanting to make changes to their smiles, and we love helping each of them plan and achieve the picture-perfect look they desire. Whether you're interested in professional teeth whitening, veneers, or cosmetic bonding, Dr. Joseph Kern and his dedicated team offer a variety of treatment options that can help you achieve your smile goals. If you're interested in scheduling a cosmetic dentistry consultation to find out more about our variety of services, contact us today. We can't wait to see your smile.
Metal-Free Restorations
All-ceramic, metal-free, restorations blur the line between cosmetic and restorative care. While these crowns, inlays, onlays, and bridges restore the full form and function to damaged teeth, they also improve the overall appearance of patients' smiles. Unlike traditional gold restorations, the all-ceramic material blends seamlessly into smiles. Even the more cosmetic porcelain bonded to metal restorations begin to develop a darker appearance as the porcelain layer wears. All-ceramic crowns, inlays, onlays, and bridges are made from a single block of ceramic, which means they retain the natural-looking shade for years blending flawlessly with smiles. Patients who experience allergies or sensitivity to metal will also benefit from restoration utilizing these metal-free materials. The placement process is no different than that for more traditional restorations, and we can even craft metal-free crowns, inlays, onlays, and more in just one visit to our office using the CEREC milling unit.
Direct Bonding
Applied directly to the surfaces of teeth, direct bonding is one of the most conservative cosmetic dentistry solutions. Sometimes referred to simply as bonding or cosmetic bonding, this service uses a tooth-colored composite resin to correct or conceal minor chips, cracks, gaps, stains, and other smile irregularities. In addition to being the most conservative option, direct bonding also saves patients time. The entire process is completed in just one office visit. We may remove or reshape some enamel, but in most cases, even this small amount of dental preparation is unnecessary. The bonding agent is applied directly to the surface of the tooth where it is shaped into the ideal position concealing or correcting the damaged area. Then, we harden the material into position using a curing light. The final product is smoothed and polished to blend seamlessly with the natural smile line. Depending on the number of teeth being treated, the whole process usually takes less than an hour from start to finish, and the beautiful results will last for years with proper care.
Learn More About Dental Bonding
In-Practice Tooth Whitening
Unlike over the counter teeth whitening products available from most retailers, professional tooth whitening is able to deliver on its promise to brighten your smile. Dr. Kern trusts the Opalescence Boost in-office whitening system to safely, effectively brighten patients' smiles. In most cases, we're able to help patients achieve results up to ten shades brighter in just about an hour. The in-office Opalescence treatment has a number of benefits for patients. In addition to the fast results, whitening performed under the dentist's direct supervision offers increased safety and more predictable results. Opalescence has a number of formulas that benefit those patients who experience dental sensitivity as well.
Learn More about Teeth Whitening
At-Home Tooth Whitening
The Opalescence line also includes customizable take-home whitening treatments. For those patients who would like to see more gradual changes in their smile's brightness, those who have dental sensitivity, and those who would simply prefer to whiten at home, we're happy to create a custom whitening plan using professional grade Opalescence whitening products that deliver the same dramatic results over the course of about two weeks of consistent treatment. We will adjust dosages, wear times, and other factors to best fit patients' schedules, budgets, and desired result timeline. Unlike store brand tray whitening systems, our take-home kits include a custom fitted application tray. This keeps the whitening agent on teeth and neutralizing saliva out for improved results.
Tooth-Colored Fillings
In the past, amalgam fillings have been the standard in dental care, but in recent years, most dental practices have started to shift to the more conservative and cosmetically superior tooth-colored filling materials. Amalgam is a durable material, but after years of research, dental practitioners have noted a number of concerns associated with these restorations. Amalgam expands and contracts with changes in temperature, which may cause it to break away from the tooth exposing it to further decay or damage. In order to prepare teeth for amalgam fillings, healthy dental structure needs to be removed to hold the filling in place. Conversely, tooth-colored composite resin fillings are bonded directly with the tooth enamel creating a stronger bond, and the material expands and contracts due to changes in temperature at a rate more consistent with the natural dental structure. Added to their cosmetic superiority, these oral health benefits make tooth-colored fillings the ideal restoration material.
Porcelain Veneers
Porcelain veneers are a great option for patients who have a number of minor cosmetic flaws they want to conceal. Rather than undergoing extensive restorative or orthodontic treatment, a porcelain veneer instantly refreshes patients' smiles. The process is simple and typically requires two appointments to complete. During an initial visit, we prepare the teeth by removing a small amount of surface enamel. Then, we capture impressions that are used by a trusted dental lab to craft a custom veneer. In the meantime, we place a temporary veneer that protects teeth. When the final restoration is returned, patients exchange the temporary for the custom veneer.