Grafton Restorative Dentist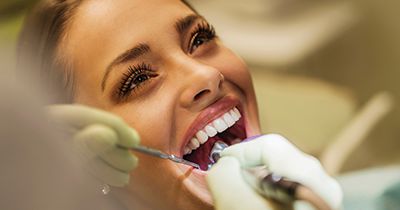 Following dental damage or decay, it's essential that patients seek treatment right away. Left untreated, small cracks or chips can lead to much bigger issues like lost teeth or root canal infection. At Kern Family Dentistry, our goal is always to provide patients treatment that delivers the results they want while preserving the maximum amount of natural dental structure. If we being treatment sooner, we will have more conservative options. Contact our team right away if you experience toothache, damage, or other oral health concerns. We love helping patients restore their damaged smiles.
Crowns & Bridges
Dental crowns and bridges are the most common restoration options offered by most general dentists, and our Grafton, ND dentist and team rely on crowns and fixed bridges to repair smiles for a number of reasons including:
Severe decay or damage that cannot be repaired with a more conservative solution
Cosmetically flawed or malformed teeth can be shaped to fit more naturally within patients' smiles
Following root canal therapy, we may use a dental crown to protect the treated tooth
As part of single tooth dental implant supported tooth replacement a crown may be attached to a dental implant
As the support for fixed bridge tooth replacement, dental crowns can be placed on surrounding teeth
We offer dental crowns crafted from a number of materials including gold, porcelain bonded to metal, and ceramic. Once we determine what material is ideal for your situation, the process is simple. Patients should expect to visit our office two times (unless they choose same day CEREC restoration). During the initial visit, we remove surface enamel to prepare the tooth. We then capture bite impressions that are used by our ceramics lab to craft a dental crown. In the meantime, we place a temporary crown, and patients return for their second appointment to exchange the temporary for a permanent restoration.
Learn More About Dental Crowns and Bridges
Dentures & Partials
Partial and full dentures are time tested solutions we may recommend for those patients who have extensive tooth loss. Partial dentures are crafted from a number of replacement teeth set into a gum colored base. The prosthetic fits between healthy teeth like a puzzle piece and is clipped in place using metal connectors. Full dentures are very similar. Made from a full arch of teeth set into a gum colored base. However, rather than being attached using clasps, full dentures are precisely crafted to be held in place through natural suction or with a small amount of denture adhesive. For those patients interested in a more stable solution, we also offer fixed or removable implant-retained partial and full dentures.
Learn More About Partial and Full Dentures
Tooth Extractions
In most cases, we do our utmost to help patients retain their natural teeth, but there are some situations in which tooth extraction is the best option for patients' oral health. Some of the most common reasons we extract teeth include:
Severe tooth decay that cannot be successfully repaired or that damages surrounding teeth
Orthodontic treatment may include the removal of one or more teeth in order to allow for the proper positioning of teeth and alignment of the bite
Third molars, commonly referred to as wisdom teeth, are the most extracted teeth as they often lead to oral health concerns and patients may not have enough space in their smile to accommodate them
Root Canal Therapy
Root canals are necessary when patients experience decay or trauma that reaches the soft pulp layer of teeth. The nerve system of the tooth is housed in the pulp making these infections extremely painful. When this happens, we are often able to restore the tooth by removing the damaged pulp significantly reducing pain. We then refill the tooth, seal it, and in many cases, place a dental crown in order to protect the treated tooth.