Porcelain Veneers in Grafton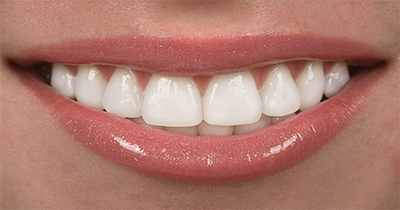 Porcelain veneers in Grafton, ND provide a beautiful second chance for your smile. They completely cover up imperfections like chips, cracks, breaks, stains, discoloration, and other aesthetic flaws in one simple treatment. Porcelain veneers from Dr. Joe Kern are completed in two to three visits to our state-of-the-art office.
Dental veneers are wafer-thin, tooth-shaped coverings made of dental porcelain. They are permanently affixed to the surface of the teeth that show when you smile. Reserved for making cosmetic improvements to a smile, porcelain veneers mask any number of aesthetic issues, restoring or enhancing the size, shape, color, and overall appearance of imperfect teeth.
Most patients who wish to transform their smiles with veneers are eligible for the procedure. You will undergo a thorough checkup and cleaning with your dentist before you receive the veneers. Cosmetic dentistry is most successfully performed on healthy teeth and gums — cases of tooth decay or gum disease should be attended to first.
Dental veneers are reserved for making cosmetic improvements to the teeth. Patients who are dealing with weak or worn teeth are likely better served by a dental crown, which restores the form and function of damaged teeth. People who have significant tooth crowding or other dental misalignments, like overbite, underbite, or crossbite, will benefit most from traditional orthodontic treatment. Dr. Kern can help you understand which option is best for you and your smile.
The Process
Porcelain veneers are applied in two to three visits to Dr. Kern's office. In the first appointment, you and Dr. Kern will discuss your smile goals. Your dentist will put together a treatment plan to help you achieve the smile of your dreams. Then, your teeth will be prepared to receive the veneers — a process that involves removing a slight layer of enamel to make room for the new veneers. Your dentist then takes impressions of prepared teeth for the creation of your veneers. This information is sent to our trusted lab, where your veneers are created in one to two weeks. Once they are ready, you return to our office, and we'll give you the first preview of your new smile. Once we have your final OK, the veneers are permanently affixed to your front teeth!
When cared for properly, your veneers can last for years after their application. Maintaining veneers doesn't require much more than what you're already used to. It's true that your veneers cannot develop cavities, but the teeth and gums beneath and surrounding them can. Brush your teeth regularly (after each meal or at least twice a day), floss daily, and visit your dentist as recommended to enjoy healthy teeth and gums for years to come.
People who play contact sports, or who grind their teeth at night (the condition known as bruxism), should protect their veneers with a custom-fit sports or mouthguard.
Schedule an Appointment Today!
Are you interested in what's possible with porcelain veneers? We want to talk. Please don't hesitate to schedule an appointment with Dr. Kern today.