Family & Preventive Dentist in Grafton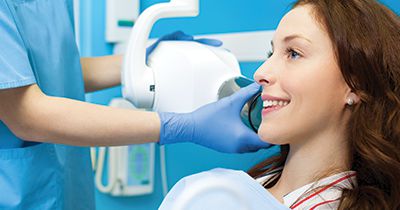 Kern Family Dentistry has offered residents of Grafton, ND, Minto, and other nearby locations superior preventive dentistry services for the last two decades. Our team has years of experience working with patients of all ages and stages of dental development in order to assist them in achieving and maintaining their optimal level of oral health. If you're new to the area or looking for a new dental practice for your family, contact our team to find out more about our general dentistry services or schedule an appointment today.
Checkups & Cleanings
Six month checkups and professional teeth cleanings are the fundamentals of any oral health and hygiene routine. They allow Dr. Kern and his team to examine your smile thoroughly, get to know you and your smile goals, and give us the opportunity to diagnose and treat any concerns in the earliest stages. Each preventive visit has four main components:
Diagnostics – usually once a year but more or less frequently in some cases, we collect digital x-rays of patients' smiles, and we may also use a number of other diagnostic tools like intraoral photography. These high definition images allow us to uncover even the most minor concerns and begin planning for treatment immediately.
Examination – our dentist examines your smile screening for early indicators of a number of oral health concerns including tooth decay, gum disease, bruxism (teeth grinding and clenching), temporomandibular joint (TMJ) dysfunction, and oral cancer.
Cleaning – a skilled hygienist carefully cleans even the hardest to access parts of your smile systematically removing plaque and tartar buildup for a beautiful smile.
Consultation – possibly the most important part of any dental checkup is the time spent discussing your oral health with the doctor, asking question, and developing an ongoing care plan that meets your needs.
Dental Sealants
Dental sealants are just one of the many treatments we offer that help patients protect their teeth between visits. In fact, sealants may be the fastest, longest lasting, most cost effective way for patients of all ages to protect their teeth from decay. The process is simple. During a regular checkup, the dentist applies a thin, clear coat of sealant over teeth. The sealant fills in the tiny gaps and dents in patients' teeth that are hard to clean with regular brushing and flossing. We harden the dental sealant into position, and patients' smiles are protected for up to ten years.
Nightguards for TMJ & Bruxism Therapy
If you grind or clench your teeth at night or experience pain related to TMJ dysfunction, a custom crafted nightguard from Kern Family Dentistry may be the right solution. Nightguards for bruxism and TMJ therapy have two main functions. First, they create a protective barrier between teeth preventing potential wear, chips, and cracks that may occur due to nighttime clenching and grinding. More importantly, they allow the jaw to rest in a comfortable position, which significantly reduces the amount of grinding and clenching that may strain the TMJ.
Children's Dentistry
We love treating patients of all ages because that's what family dentistry is all about, but kids have a unique set of oral health and behavioral needs that take patience and experience. At Kern Family Dentistry, that's exactly what your kids receive. We love helping kids develop great oral health and hygiene habits, and we work hard to make sure children don't associate our office with fear or discomfort which can lead to a lifetime of dental anxiety. We offer a number of treatments especially suited to developing smiles including dental sealants, fluoride treatments, and athletic mouthguards. Bring the whole family to our skilled Grafton, ND dental office today.
Sleep Apnea Treatment
Sleep is essential to every part of daily activity. We need "good" sleep to function at hour highest level, but many of the patients we see don't sleep as well as they should. In recent years, sleep apnea, the cessation of breathing for 10 or more seconds at a time during sleep, has been diagnosed more often and more accurately, but many patients still aren't sleeping soundly. The common treatment for sleep apnea is continuous positive airway pressure (CPAP), but many patients find themselves unable to adjust to the sounds and sensations of the CPAP system. If you've been recently diagnosed with sleep apnea or are CPAP intolerant, you may want to consider oral appliance therapy from your dentist as a viable alternative. Oral appliances use the same method as mouth to mouth resuscitation to keep the airway clear. By positioning the jaw slightly forward, the muscles contract preventing obstruction and allowing patients to sleep soundly.
Periodontal Therapy
Periodontal (gum) disease affects more adults in the US than many of the most common health concerns including diabetes and heart disease. Recent research has shown that gum disease may even increase the risks for several chronic or systemic illnesses. That's why our team makes screening for periodontal disease an essential part of every dental checkup. When diagnosed in the early stages, gum disease is often effectively treated with more frequent professional teeth cleaning. When cleanings alone are not enough, we offer more advanced options. Typically, we recommend scaling and root planing. Scaling is the removal of plaque, tartar, and damaged tissue below the gum line, and root planing refers to the smoothing of root structures to prevent future buildup. In most cases, we make use of the Odyssey Diode soft tissue laser to complete these procedures with less bleeding and discomfort during treatment, and shorter healing time following care.
Dental Technology
Our team is passionate about ensuring patients are completely comfortable in our office and have the highest quality care. While many patients will never notice the effect technology has on their treatment, it is an essential part of ensuring quality and comfort. That starts with our state-of-the-art ScanX digital x-ray system from Air Techniques. The ScanX system captures intra and extraoral images of patients' teeth, gums, and facial structures quickly and comfortably. We also offer same-day dental restorations using CEREC, needle-free local anesthesia using the Wand, and have operatories fully equipped with TVs patients can view comfortably helping them relax during treatment.
Fluoride Treatment
As our primary and adult teeth develop below the gum line, fluoride in the foods we eat and in tap water helps them to form. However, once our teeth erupt from the gum line, the best way to attract those vital minerals we need to prevent decay and fortify enamel is to use topical fluoride. For this reason, most tooth pastes and mouth rinses contain some fluoride, but for younger patients and those prone to decay, professional grade fluoride treatments may be a better option. We quickly and painlessly apply topical fluoride as part of any dental visit.
Oral Cancer Screenings
Oral cancer claims one life every hour in the US, and most patients don't live more than five years beyond their initial diagnosis. Researchers with the Oral Cancer Foundation said that while avoiding high risk behaviors like tobacco use and excessive alcohol consumption is an important step in preventing annual oral cancer related deaths, early diagnosis will have the greatest impact in reducing the number of annual deaths. That's why our team makes oral cancer screenings an important part of every dental checkup.
Athletic Sportsguards
Protecting smiles and preventing damage is not always in our control, but when it comes to participating in athletic events, patients can effectively prevent most dental damage by consistently wearing a sportsguard. There are a number of store bought varieties available, but custom athletic mouthguards offer superior comfort and are more effective in protecting smiles from potential damage.