Partial & Full Dentures – Grafton, ND
Regain a Complete & Confident Smile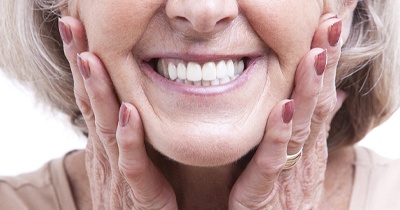 For most people, the main concern of missing teeth is the way they look. A smile is a large component of your appearance. When your smile has one or more missing teeth, you know that others notice. This simple awareness can make you feel very self-conscious and even uncomfortable.
But there's really more to it than what meets the eye. Tooth loss can also impact your general health and well being. For example, sometimes people with missing teeth cannot eat certain foods such as raw fruits and vegetables, because they're difficult to chew and therefore digest. So replacing your missing teeth will not only help you feel more confident when you smile, but is also likely to improve your general health, too.
For centuries, dentists have relied on dentures as the solution for tooth loss. Fortunately, dentures today have come a long way from where they started. Whether you need a partial or full denture in Grafton, Dr. Kern will work with you to create a prosthesis that provides a delightful smile that you can count on. To schedule your denture consultation, give us a call today!
Who Is a Good Candidate for Dentures?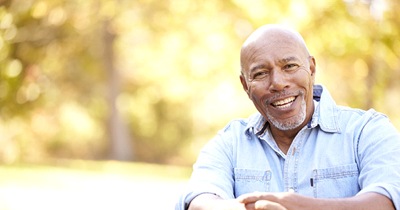 Practically any adult suffering from moderate to severe tooth loss can be a good candidate for dentures. However, you need to be in good oral health before you can be fitted with dentures. During your consultation, we'll look for issues like tooth decay, unhealthy teeth, and gum disease. If any problems are found, we'll help you address them before moving on to completing your smile with dentures.
Types of Dentures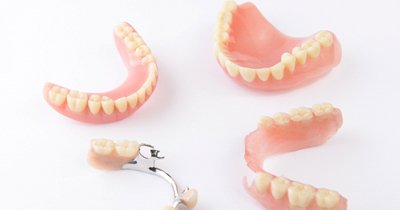 Not only are dentures a good choice for most candidates who are interested in them, but our custom-made dentures can be used to address varying degrees of tooth loss. Depending on your unique situation and goals, we may recommend one of the following:
Partial Dentures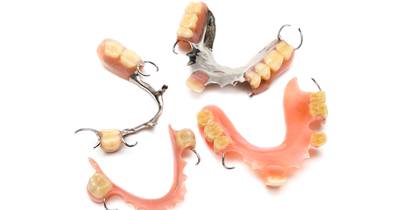 Did you know that there are around 175 million Americans who have at least one missing tooth? If you stand among this crowd, then your Grafton dentist would like to see you. Dr. Kern will be happy to design a customized partial denture to rebuild your smile and help you eat and speak with ease.
A partial denture consists of false teeth that are attached to a thin metal frame, which has clasps that hook around a couple of your natural teeth in order to hold the denture in place. No need to worry if your missing teeth are not consecutive. As long as they're along the same arch, Dr. Kern can design your partial to fit just like a puzzle piece between remaining teeth.
Full Dentures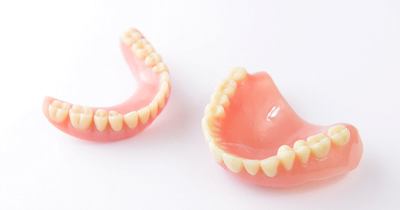 If all of your teeth are missing along one or both arches, then Dr. Kern will recommend a full denture. For your upper arch, this denture consists of false teeth attached to a gum colored base; the base may or may not cover the roof of your mouth, too. For your lower teeth, the base is U-shaped in order not to get in the way of your tongue.
Dr. Kern takes precise measurements of your mouth in order to specify dentures that are just the right size and shape for your smile. And while natural suction can hold your dentures in place, you may feel more confident using a denture adhesive, too.
Implant Dentures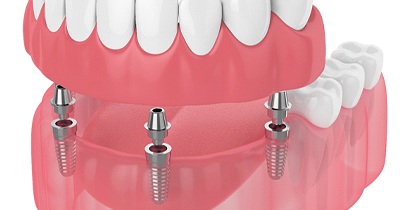 Alternatively, your partial or full denture can be anchored securely into place with the help of dental implants. Instead of resting on your gums or relying on your remaining teeth, an implant denture is attached to four to eight dental implants that have been inserted directly into your jawbone. This unique method offers vastly improved function, comfort, and longevity, but you'll need to have adequate jawbone density to be considered a good candidate. During your consultation, we'll review all your tooth replacement options and help you determine if implant dentures are a good choice for you.
The Benefits of Dentures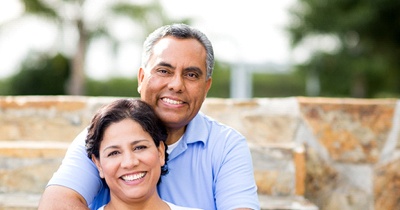 Dentures are a reliable tooth loss solution that countless patients around the world have benefited from. To this day, they remain a very popular way to replace teeth, and it's easy to see why! They offer advantages like:
Fast results that have the potential to last for many years
A non-invasive and easy way to replace many missing teeth
Beautiful, durable, and natural-looking results
Regained chewing ability and filled-out facial appearance
Cost-effective means of overcoming tooth loss
Understanding the Cost of Dentures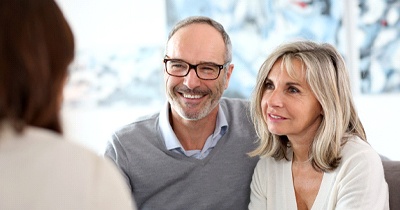 It's no secret replacing missing teeth can be expensive; however, dentures are likely more affordable than you might realize. Unfortunately, there isn't a pre-determined fee for the prosthetics because the cost of dentures in Grafton varies depending on your treatment plan. Don't worry, we'll help you find the solutions you need to rebuild your smile without breaking the bank.
Denture FAQs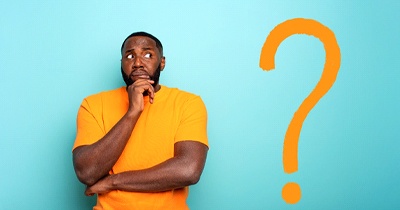 If you're considering replacing your missing teeth with dentures in Grafton, then chances are you have a few questions about the process. We'll be happy to answer any questions you may have during your consultation. Before then, however, we invite you to read through the following section to see whether your question is one of the ones we get asked the most often. If you still have concerns after reading the FAQs below, don't hesitate to reach out to our team at Kern Family Dentistry and ask!
How Can I Get Adjusted to Living with Dentures?
When you first receive your prosthesis, it may take some time for your mouth to get used to it. During this adjustment period, we recommend wearing your dentures as much as possible so that you can practice eating and speaking.
Until you fully get the hang of chewing with your dentures, you might want to stick to a soft food diet or cut your food into tiny pieces. Remember to chew with even pressure on both sides of your mouth to keep your dentures in place.
Also, you may produce excess saliva at first, but you can manage this by sipping water frequently and sucking on sugarless candy to encourage regular swallowing.
How Long Do Dentures Last?
This depends on the type of denture you're receiving. A traditional partial or full denture will typically last five to ten years before it needs to be replaced. It will also need to be adjusted, or "relined" every year or so to accommodate for the natural jawbone changes that occur after tooth loss.
Implant dentures, on the other hand, can last exponentially longer. Because dental implants stimulate the jawbone, they prevent the natural changes that would normally take place. As a result, they won't need to be replaced nearly as often. While your prosthesis may have to be replaced every decade or so, the implants themselves can last a lifetime with good oral hygiene.
How Should I Take Care of My Dentures?
For an implant denture that is fixed in the mouth, you can pretty much care for it the same way you did your natural teeth. Brush, floss, and rinse every day, and visit us for checkups at least twice a year.
Conventional dentures require learning a new maintenance routine. Every day, you should brush your dentures with a soft-bristled toothbrush and no toothpaste. Also, brush your gums, tongue, and palate to prevent plaque buildup. Soak your dentures overnight in a denture cleansing solution or water. Just be sure to not use hot water since that could alter their shape.