Partial and Full Dentures in Grafton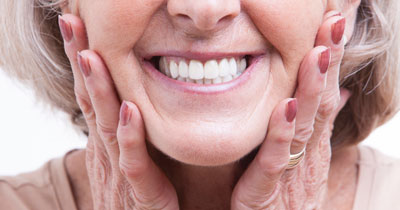 For most people, the main concern of missing teeth is the way they look. A smile is a large component of your appearance. When your smile has one or more missing teeth, you know that others notice. This simple awareness can make you feel very self-conscious and even uncomfortable.
But there's really more to it than what meets the eye. Tooth loss can also impact your general health and well being. For example, sometimes people with missing teeth cannot eat certain foods such as raw fruits and vegetables, because they're difficult to chew and therefore digest. So replacing your missing teeth will not only help you feel more confident when you smile, but is also likely to improve your general health, too.
For centuries, dentists have relied on dentures as the solution for tooth loss. Fortunately, dentures today have come a long way from where they started. Whether you need a partial or full denture in Grafton, Dr. Kern will work with you to create a prosthesis that provides a delightful smile. Furthermore, your dentures will fit so comfortably, you might even forget that you're wearing them!
Partial Dentures in Grafton
Did you know that there are around 175 million Americans who have at least one missing tooth? If you stand among this crowd, then your Grafton dentist would like to see you. Dr. Kern will be happy to design a customized partial denture to rebuild your smile and help you eat and speak with ease.
Our office offers both removable and fixed partials. A removable partial consists of false teeth that are attached to a thin metal frame, which has clasps that hook around a couple of your natural teeth in order to hold the denture in place. No need to worry if your missing teeth are not consecutive. As long as they're along the same arch, Dr. Kern can design your partial to fit just like a puzzle piece between remaining teeth.
A fixed partial is often called a bridge. Here, dental crowns are mounted over healthy teeth on both sides of the gap in your smile. The fixed partial is constructed as a single unit with two crowns and the false teeth in between. Once the crowns are in place, the bridge is a permanent replacement for missing teeth. The crowns can also be attached to dental implants if adjacent teeth aren't strong enough.
Full Dentures in Grafton
If all of your teeth are missing along one or both arches, then Dr. Kern will recommend a full denture. For your upper arch, this denture consists of false teeth attached to a gum colored base; the base may or may not cover the roof of your mouth, too. For your lower teeth, the base is U-shaped in order not to get in the way of your tongue.
Dr. Kern takes precise measurements of your mouth in order to specify dentures that are just the right size and shape for your smile. And while natural suction can hold your dentures in place, you may feel more confident using a denture adhesive, too.