Dental Implants – Grafton, ND
Restore Your Smile and Regain Your Confidence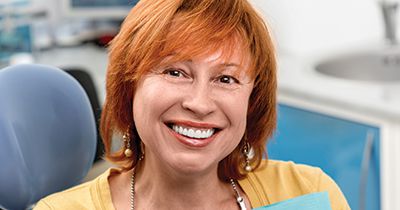 Dental implants in Grafton are one of the most talked-about tooth replacement options that modern dentistry has to offer. These small titanium posts, which an oral surgeon places within a patient's jawbone, create the foundation for a strong, highly functional smile that lasts for many years. We're proud to help people in our area to take advantage of this remarkable and versatile restorative treatment. To discover whether implants are an appropriate solution for your tooth loss, contact us to schedule a consultation.
Benefits of Dental Implants
Dental implants offer some outstanding benefits. Here are just a few of the advantages you can expect to reap if you choose them to restore your smile:
Implants provide whole-tooth replacement. The implants themselves act like tooth roots, while the restorations (crowns, bridges, or dentures) provide a strong, comfortable bite.
Implant restorations are made of high quality materials that closely resemble natural teeth.
Because implants bond with the jaw, they help to stimulate it and prevent the bone deterioration that often occurs after tooth extractions.
Implants have the potential to last a lifetime.
Implants enable you to eat and drink practically anything without worry.
Placing implants usually does not require that your remaining natural teeth be modified or extracted. In fact, implants can actually protect your natural teeth by preventing them from drifting out of place!
Implants failure is rare; this treatment is successful in over 95 percent of cases.
Indications for Dental Implants
Dental implants are a versatile treatment. Your dentist in Grafton can use them to replace one tooth, a few teeth, or an entire arch of teeth.
Missing a Single Tooth
For patients who are missing just one tooth, a single implant topped by a single crown may be the ideal treatment.
Learn More About Single Dental Implants
Missing Multiple Teeth
If you are missing several teeth in a row, an implant-supported bridge may work for you. This type of restoration is supposed by two implants, each of which has its own crown. Pontics (artificial teeth) are suspended between the crowns.
Missing All Teeth
An implant-supported denture may be right for you if you are missing all or most of your teeth. Your oral surgeon will strategically place a number of implants throughout your mouth in order to provide the best base of support for your new smile. Then, we'll replace your teeth with either a fixed or removable prosthesis.
Learn More about Implant-Retained Dentures
Understanding the Cost of Dental Implants
The cost of dental implants varies from patient to patient; the price of your treatment will depend on how many implants you need and the type of restoration you're receiving. Your dental or medical insurance may be willing to cover at least part of the cost of your procedure. Regardless of the cost of implants, however, bear in mind that they are a worth it! The long-term benefits they can provide for your oral health, confidence, and appearance make them a wise investment for anyone who has suffered mild to severe tooth loss.
Learn More about the Cost of Dental Implants
Common Questions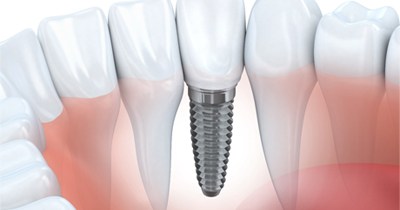 Before you choose to move forward with such this advanced tooth replacement option, you want to be sure you have all the information to make the best treatment decision for your situation. We completely understand! That's why we're providing the answers to some of the most frequently asked questions about dental implants. If you have additional questions, don't hesitate to contact us at Kern Family Dentistry. We're happy to address all your concerns and help you feel confident about your chosen treatment.
What is the process for getting dental implants?
The first step toward fully restoring your smile is having a consultation with Dr. Kern. He will be able to review your specific case and determine your eligibility for dental implants. Then, he will refer you to a trusted oral surgeon who will place the posts below the gum line. After several months, time for your tissue to heal and bone to surround the implants, you'll return to our office so that Dr. Kern can place your new dental prosthetic, whether that be a crown, implant-retained bridge, or implant-retained denture. Once your restoration is attached to your implants, you just need to continue basic maintenance to ensure their longevity.
Who is a good candidate for dental implants?
Although dental implants are a great tooth replacement option, they are not for everyone. Many factors go into deciding whether to proceed with dental implants to ensure that they are successful for you. For example, if your jaw bone lacks sufficient strength and density, it may not properly support dental implants. In some cases, a bone graft can address this issue, enabling you to get dental implants after all. Also, you need to have good oral health in general to qualify for dental implant placement. In addition, if you've suffered severe gum recession, the implant may not firmly stay in place. At your consultation, you and Dr. Kern can discuss your eligibility for this procedure in more depth.
What can cause dental implants to fail?
In the strong majority of cases, over 95 percent of the time to be precise, dental implants are tremendously successful. In fact, that same success rate is true even after 10 years. Despite being overwhelmingly reliable, it is possible for dental implants to fail. If you have an existing gum or oral infection, for instance, the tissue and bone may not heal properly and give your implants the support they need. Also, if a restoration is attached to the dental implant before it has had enough time to become fully integrated into the bone, it can shift or come out of place. In the long term, dental implants can fail if they are not correctly cared for. That's why it's important to maintain healthy oral habits, such as brushing and flossing daily and visiting our Grafton office twice every year for checkups and cleanings.