February 4, 2023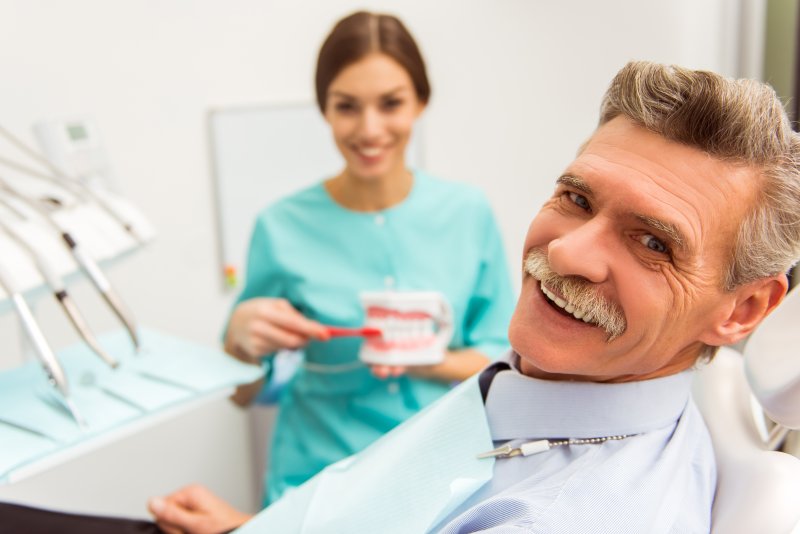 Dentures can afford people who have lost teeth in the past a huge boost to their quality of life. They're also incredibly durable and capable of lasting for years if you maintain them properly.
If you want your prosthetic to stick around for as long as possible, there are some important things you may want to keep in mind. Here are three good habits for people who have dentures.
Take Out Dentures Before Bed
Some denture patients make the mistake of wearing their dentures to bed, which can be a bad idea for a few reasons. For one, your dentures rely on your gums for support, which puts a lot of pressure on the soft tissues in the mouth. If you don't give them time to rest, you could start to develop sores along the gumline.
Your dentures can also collect bacteria if you don't clean them often, so when you take them out each night you can use that opportunity to soak them in a denture cleaning solution.
Take Care of your Natural Teeth
Similarly, patients who have partial dentures should still take care of the rest of their teeth. If you don't then the bacteria that builds up in between the teeth can inflame the gums, compromising the integrity of your dentures as well.
If you want to stay consistent, you should make it a point to brush your natural teeth just after taking your dentures off each night, and again before you put them on each morning.
See Your Dentist Often
As time goes on, you may notice that your dentures don't fit quite as well as they used to. You may wonder if they've warped or broken, and that could certainly be the case, but it's just as likely that your dentures simply need to be relined.
Over time, patients with dentures will see their jaws start to shrink from underuse. In response, your dentures will need to be refitted to accommodate the smaller jawbone.
Seeing your dentist often will give them an opportunity to check on the fit of your dentures, and to give you some helpful advice on how you can keep in top shape for as long as possible. Try and visit your dentist at least twice a year and they'll be able to help you stay on track.
About the Author
Dr. Joe Kern is a dentist who loves the feeling of getting to improve his patient's smiles. He and his incredible dental team are dedicated to offering their patients the best that oral healthcare has to offer. Dr. Kern received his doctorate from The Ohio State University, and in the 22 years since he has felt immense pride in being able to help thousands of patients achieve the smile of their dreams.
If you have any questions about how to take care of your dentures, we can be reached at our website or by phone at (701) 352-2013.
Comments Off

on 3 Great Habits for Denture Patients
No Comments
No comments yet.
RSS feed for comments on this post.
Sorry, the comment form is closed at this time.