January 18, 2022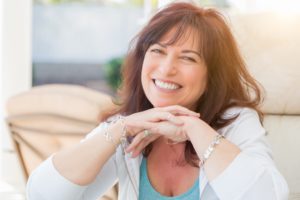 You expect to see a few gray hairs and wrinkles as the years pass, but you may not have expected your teeth to make you look older. Stained, worn, or missing teeth can add years to your appearance. While you can't stop gray hair from growing, you can turn back the clock with cosmetic dentistry. Here are 5 procedures that can revamp your smile to look years younger.
1. Tooth-Colored Fillings
Metal fillings were the go-to solution to treat tooth decay for generations; however, now there's another option. Tooth-colored fillings are the standard for treating cavities. You don't have to let your past be the focal point of your smile. You can replace your old fillings or treat new decay using a natural-looking method. A composite resin is customized to match the shade of your teeth to blend in with your enamel.
2. Metal-Free Restorations
Traditional restorations are made from a variety of metals because they are durable and affordable. However, they are very noticeable. Metal-free crowns and bridges are made of all-ceramic materials. Your restoration is designed to match the color, size, and shape of your real teeth, so no one will know it isn't part of your natural smile. Although they are metal-free, they are equally durable.
3. Direct Bonding
Your teeth are protected by the hardest substance in your body. Although your enamel is durable, it can chip or crack after years of daily wear and tear, but those aren't the only concerns. Gum recession, decay, or discoloration can also add years to your appearance. Direct bonding offers a lot of bang for your buck because it can treat several minor cosmetic and restorative concerns, like chips, cracks, or exposed tooth roots. It's an affordable and convenient method to revitalize your smile after just one appointment.
4. Teeth Whitening
Everyone's teeth darken with age, but brown or yellow stains can make your smile look old, unhealthy, and unattractive. A professional whitening system can get your teeth up to 8 shades brighter with results that last for several years with the right aftercare, like brushing and flossing. Whether using an at-home kit or in-office treatment, you can enjoy a vibrant, stunning smile you'll want to show off.
5. Porcelain Veneers
Porcelain veneers rank among the top cosmetic procedures year after year because they can fix multiple issues using one treatment. Applying the thin shells to the front sides of your teeth can cover discoloration, chips, gaps, and other concerns instantly. You won't have to worry about your new smile aging anytime soon because veneers can last for a decade or more with the proper care.
Don't wait another day to restore your smile. Schedule a consultation with your cosmetic dentist today.
About Dr. Joe Kern
Dr. Kern earned his dental degree from The Ohio State University. He has over 22 years of experience in the dental field, adding value to his patients' smiles using state-of-the-art techniques and technologies. If you're ready to improve your smile, contact our office today to see if cosmetic dentistry is right for you.
Comments Off

on 5 Cosmetic Dental Procedures to Look Younger
No Comments
No comments yet.
RSS feed for comments on this post.
Sorry, the comment form is closed at this time.