November 25, 2020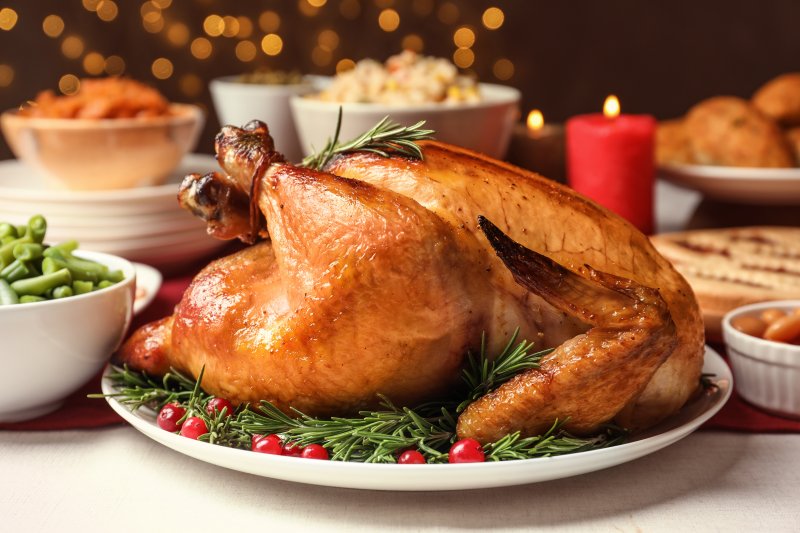 The majority of people look forward to the holidays coming around, but it isn't the best time of year for your oral health. After the holiday season comes to a close, many people find themselves needing to deal with cavities and other dental problems. It is likely the worst time of year for your smile. Your dentist shares a few reasons why and some steps you can take to ensure that your oral health stays in good shape.
Why Are Holidays Bad for Your Teeth?
There are three main reasons why the holidays wreak havoc on your smile:
Constant Snacking
Whenever you meet with family over the holidays, you are likely to be indulging in some delicious meals. That's a huge part of Thanksgiving Day after all. If you're planning on starting out your day with appetizers, then moving on to entrees with some delicious pie and other desserts afterwards, your teeth will pay the price. Instead of doing this, have a few balanced meals with plenty of time between them to give your smile a break.
Lots of Sugar
It is difficult to resist the urge to munch on some sugary treat. However, this is very bad for your dental health. When you eat sugar, it turns to acid in the mouth which softens your protective enamel. When bacteria-filled plaque is built up on the teeth, you are looking at tooth decay in the near future. Don't be afraid to have a few sweets, but you should definitely give your mouth a break when you can.
No Routine
While you have a routine for the rest of the year, during the winter months, it's easy to fall off track. If you're traveling, it is easy to drift away from your normal healthy eating and throw off your oral hygiene routine. As much fun as you are having, it is super important that you don't forget to brush before bed by mistake. The health of your smile should be a priority.
How Can You Maintain Your Oral Health Over the Holidays?
Drink water: This helps to wash away food particles and neutralize acids in the mouth.
Oral hygiene: Brush, floss, and rinse frequently.
Eat healthy: Fill your plate with turkey, carrots, cheese, nuts, pumpkin, and other healthy foods.
Avoid unhealthy food: White wine, candy canes, and other sugary foods should be avoided.
See your dentist: This is a great time to see your dentist for a cleaning and checkup. This way, you can keep your teeth clean and healthy.
By following the steps listed above, your teeth won't fall victim to the holidays this year. Take time to be grateful for your smile and keep it healthy!
About the Author
Dr. Joe Kern is an experienced dentist who has been practicing for 22 years and counting. He earned his doctorate at The Ohio State University and is currently serving patients at Kern Family Dentistry in Grafton, ND. For more information on maintaining a healthy smile or to schedule an appointment, visit his website or call (701) 352-2013.
Comments Off

on Are the Holidays the Worst Time of Year for Your Teeth?
No Comments
No comments yet.
RSS feed for comments on this post.
Sorry, the comment form is closed at this time.