May 13, 2022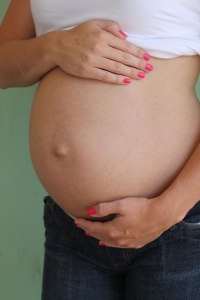 Every tooth is essential to a healthy, beautiful, functional smile. Losing even one can affect your self-esteem and dental health. Thankfully, your dentist can replace your lost tooth using the next best thing to what nature gave you. A dental implant is the only solution to replicate both the root and crown. Although most people with good oral and general health are candidates, they may not be the best option for expectant mothers. If you want to complete your smile before your bundle of joy arrives, here's what you need to know about getting dental implants during pregnancy.
Dental Implant Surgery
A dental implant is designed to mimic the root and crown, which involves a multi-step process to complete. A titanium post is surgically placed into the jawbone to serve as a root. After your bone integrates with the post, an abutment is attached to connect a custom-made restoration. This method stops bone loss to prevent additional oral health problems using a solution that can last for 30 years or more.
Dental Work During Pregnancy
Several rumors surround the safety of dental procedures for expecting women. The American College of Obstetricians and Gynecologists and the American Dental Association recommend pregnant women maintain regular preventive appointments, including cleanings and checkups. However, certain restorative or elective procedures should wait until after the first trimester. Fillings, crowns, and root canals are considered safe for mother and baby. Dental implants can also be placed in the later trimesters, but most oral surgeons won't perform the procedure.
Local anesthesia is safe during pregnancy, but the anesthetic won't be enough for your placement surgery. Stronger anesthetics can harm the unborn baby and mother. Not to mention, many procedures require X-rays. Although digital X-rays use minimal radiation, the ADA doesn't recommend imaging until the second trimester.
Get the Process Started Today
It's safer to wait until after you are holding your baby in your arms to have dental implant surgery, but you can still get started. The process can take several months, which begins with a consultation. Your dentist will examine your mouth and learn more about your health to determine if a dental implant is right for you.
It's not uncommon for patients to require a little prep-work before undergoing their implant surgery, like gum disease treatment. Depending on what is needed, your dentist can resolve the issues, so your mouth is healthy and ready to go after your delivery.
While you wait for your child's arrival, commit to keeping your smile clean and healthy. Besides brushing and flossing at home, don't forget to schedule your semi-annual cleaning and checkup.
About Dr. Joe Kern
Dr. Kern earned his dental degree at the Ohio State University and has regularly continued his education in various advanced services, like dental implants. He has over 22 years of experience in the dental field to treat the most complex oral health issues, like tooth loss. If you are interested in dental implants, contact our office today to request your consultation.
Comments Off

on Are Dental Implants Safe During Pregnancy?
No Comments
No comments yet.
RSS feed for comments on this post.
Sorry, the comment form is closed at this time.