June 9, 2021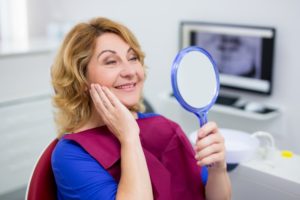 While dentures can restore a portion of your chewing capacity, there are still some limitations to what you can eat with them. With summer here, you'll be attending barbecues and other functions, and you'd like to feel normal and enjoy yourself. Continue reading to get 5 easy-to-follow tips for eating with dentures this summer!
#1 – Soft Foods are Better
If you've recently received your dentures, you're likely still trying to adjust to them. As a result, your gums may still be a little sore. If you're at a summer gathering and you want to eat, look for softer foods like parfaits, puddings, easy-to-chew fruits and others that won't place a great amount of pressure on your dentures and gums.
#2 – Be Careful with Hot Foods
Because dentures cover a portion of your palate, they tend to create an insulating effect. Therefore, when you eat hot foods, you may not realize that the temperature is too high. This can place you at a greater risk of burning the sensitive soft tissue inside your mouth. It's better to stick to smaller portions so you can make sure it's at a safe temperature.
#3 – Cut Your Food into Small Pieces
While dentures look similar to normal teeth, they can't function at the same level. Thus, attempting to chew too much food at once can place an unusual strain on your jaw, gums and teeth. Cutting your food into smaller pieces before eating can be of a tremendous help.
#4 – Drink Plenty of Fluids
Staying hydrated does more than help you beat the summer heat. It can also aid in removing debris from your dentures. Of course, water is the best option, as it's healthier for your gums and won't encourage any staining.
#5 – Carefully Choose Your Meats
Although summer just wouldn't seem right without eating some meat off the grill, some types can be difficult to chew when wearing dentures. Think twice before tearing into a steak or ribs. However, you may fare better eating slow-cooked and ground meats, as they are typically easier to chew.
The Advantage of Implant-Retained Dentures
If these seem like too many limitations, there is a way to upgrade your dentures – with dental implants. Cylinder-shaped posts that are made from high-grade titanium, implants are surgically inserted into your jawbone to mimic the function of the missing tooth roots.
After abutments (anchors) are added to the implants, dentures can be securely attached (called overdentures) to fully restore your smile. One of the advantages they provide is that your chewing capacity will increase greatly, which means you can enjoy more of the summer delights.
If you want to learn more about the procedure, reach out to a local dentist to schedule a consultation. With the right planning, eating with dentures this summer can be a breeze!
About the Author
Dr. Joe Kern earned his dental degree from The Ohio State University College of Dentistry. Throughout a career that has spanned over 20 years, he has remained an avid learner, taking several hours of continuing education. Dr. Kern enjoys giving his patients a reason to smile again by custom designing dentures and placing dental implants at Kern Family Dentistry, and he can be reached for more information or to schedule a visit through his website.
Comments Off

on 5 Simple Tips for Enjoying Summer Foods with Dentures
No Comments
No comments yet.
RSS feed for comments on this post.
Sorry, the comment form is closed at this time.