March 18, 2022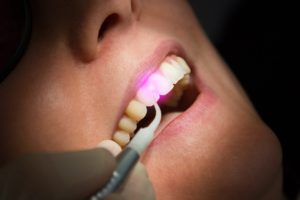 If you're embarrassed by stained, chipped, or gapped teeth, your cosmetic dentist can give you a stunning smile you'll want to show off. However, not everyone is a candidate for elective procedures. If you have underlying dental problems, they will have to be treated first. While you might be focused on your aesthetic flaws, your dentist's main concern is your gum health because it is the foundation of a beautiful smile. Although you may not have expected additional treatments, here's why you'll want to take your dentist's advice if they recommend gum disease therapy. 
Half of Americans Have Gum Disease
Tooth decay isn't the only cause of tooth loss. Over 50% of adults have gum disease, which also contributes to missing teeth. The initial signs of the infection may not appear alarming, but red and bleeding gums can quickly turn into irreversible damage. The infection can destroy your gum tissue and bone, causing your teeth to loosen and fall out. Not to mention, research shows the infection is connected to various health issues, like cardiovascular disease, Alzheimer's disease, and respiratory complications.
Although your gums might look healthy, the early signs of the infection (gingivitis) can be difficult to detect to the untrained eye. Your cosmetic dentist will examine your mouth to look for any signs of periodontal disease, like red, swollen, or bleeding gums. If they find any concerns with your gum health, they'll recommend periodontal therapy.
Creating a Healthy Foundation
While you probably didn't expect to need gum disease therapy, it's time well spent to restore your oral health to support your new smile. Your dentist will create the personalized plan you need to rehabilitate your gums, which can include:
Scaling and Root Planing
Scaling and root planing are also referred to as a "deep cleaning." Special dental instruments are used to remove plaque and tartar buildup above and below the gum line. After the periodontal pockets have been cleaned out, the root surfaces are smoothed to allow the gum tissue to reattach to the teeth.
Laser Gum Therapy
Although a traditional deep cleaning is effective, many dentists are choosing to treat the infection with a soft tissue laser. A highly concentrated beam of light energy targets diseased tissue, killing 99% of the bacteria. It also minimizes the risk of post-op complications, like bleeding, swelling, and infection. Overall, it streamlines your treatment, so you can get started with your smile makeover sooner.
Invest in Your Gum Health
Cosmetic procedures are a big investment. Don't risk your new smile to a treatable infection. Gum disease therapy will combat the infection to support a healthy mouth and body, while also providing the framework for the smile of your dreams.
About Dr. Joe Kern
Dr. Kern earned his dental degree at The Ohio State University. He has over 22 years of experience in dentistry. He takes pride in helping his patients achieve their best smiles to improve their lives. If you need treatment for gum disease, contact our office today to schedule your consultation.
Comments Off

on Gum Disease Therapy Before Dental Work
No Comments
No comments yet.
RSS feed for comments on this post.
Sorry, the comment form is closed at this time.