September 17, 2022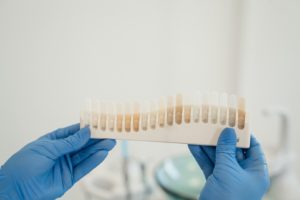 It can be almost impossible for anyone except a dentist to detect a crown from a natural tooth. Modern restorations are made of all-ceramic material, which allows your dentist to customize them to the color, size, and shape of your real teeth to blend in seamlessly. This involves combining art with science to color-match a dental crown. Here's how your dentist will determine the perfect color, so no one will know it isn't part of your natural smile. 
The Art of Color-Matching Crowns
Determining the exact shade for your dental crown isn't as easy as just picking a color off of a chart because teeth come in a variety of shades and tones, ranging from yellow to off-white. Not to mention, there's the hue, chroma, and value to consider. Your environment can also affect the color of your teeth, like the lighting and even your clothing. The thickness of your enamel also plays a role. As you age, your enamel becomes thinner, causing more of the yellowish dentin to be visible.
Traditionally, a shade guide is used to find the ideal color for a restoration. The color-matching tool is a metal or plastic card featuring fake porcelain teeth. They are arranged in a particular order to compare to the natural shades of a patient's teeth. Although they've been used for generations, there's room for error, which may cause a restoration to look unnatural. While the shade may be somewhat subjective using this method, many experienced dentists can provide nearly perfect results.
The Science of Color Matching Crowns
Thanks to technological advancements, there's an easier and more effective method of color matching. A small electronic device, called a spectrometer, has sensors to interpret the color of teeth. The shade is noted along with images of your teeth, which are sent to the dental laboratory. An expert ceramist will craft the crown to the exact specifications. If your dentist offers CEREC crowns, the color information is sent to the in-office milling machine, where your restoration will be ready in about an hour.
Tips for the Color Matching Process
You can ensure your crown looks completely natural by keeping a few tips in mind before your appointment, like:
Don't wear dark lipstick or makeup, which can affect the color contrast.
Skip bright-colored clothing. Gray is the best color to wear because it's neutral.
Your dentist will also view your teeth under natural lighting or specialized lights to compare your smile to the color guide. Rest assured, your new crown or restoration will match your real teeth with the utmost precision using the latest innovations in dentistry.
About Dr. Joe Kern
Dr. Kern achieved his dental degree from The Ohio State University and regularly continues his training to provide up-to-date services. He embraces the latest technologies and techniques to deliver exceptional results. If you're ready to benefit from the best dentistry has to offer, contact our office today to request an appointment.
Comments Off

on Art and Science of Color Matching Crowns
No Comments
No comments yet.
RSS feed for comments on this post.
Sorry, the comment form is closed at this time.