January 29, 2020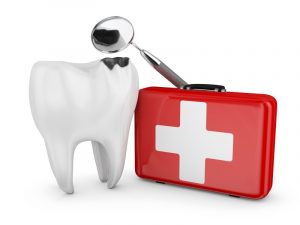 Most parents keep a first aid kit lying around the house just in case of general medical emergencies. But are you prepared in case your child has a dental emergency? One in four children will experience dental trauma at some point in their childhood, usually when it's least expected. How can you be prepared for that situation? A children's dentist in Grafton has written this guide on how to create a dental emergency kit for your son or daughter.
Medical Gloves
Before reaching into your little one's mouth, it's best to put on gloves. This will help prevent the spread of infectious diseases.
Dental Mirror and Flashlight
The human mouth is a dark place. Using a flashlight and mirror will help you deduce what's going on in there.
Cotton Balls or Gauze
These items will help stop bleeding if you press them to the site of the injury. They can also help move the tongue when you have gloves on, as it's quite slippery.
Dental Wax
Wax can be a lifesaver in the case of a chipped tooth or a broken braces bracket. Apply it to the problem area to prevent the sharp object from irritating or damaging the soft tissues in the mouth.
Floss
Sometimes a toothache is caused by an object or piece of food being caught between the teeth. More often than not, this object can be removed with dental floss.
Pain Relievers
Pack some over-the-counter pain medications to help relieve your child's discomfort. Ibuprofen in particular is excellent at relieving oral pain.
Ice Pack
Holding an ice pack to the appropriate cheek can not only alleviate your child's pain, but it can cut down on swelling that could result in even more discomfort.
Save-a-Tooth System
After a tooth has been knocked out, it has only about an hour until it's dead and can't be reattached. If your child dislodges a baby tooth, this usually doesn't present a problem. Adult teeth, however, should be reimplanted as soon as possible. Call your dentist right away, but in the meantime, you can place the tooth in a Save-a-Tooth solution to keep it alive.
Finally, don't forget to include a piece of paper with the contact information of your emergency dentist in Grafton! Doing so could mean the difference between your child saving and losing a tooth.
About the Author
Dr. Joe Kern has been practicing dentistry for 22 years and counting, ever since he earned his dental degree at Ohio State University's dental school. The best part of his job is being able to drastically improve his patients' beautiful smiles. If you call his Grafton, ND practice with a dental emergency, his team will likely be able to get you in for a same-day appointment. If you or your child is experiencing a dental emergency, don't hesitate to contact Dr. Kern's office at (701) 352-2013.
Comments Off

on How to Make a Dental Emergency Kit for Your Child
No Comments
No comments yet.
RSS feed for comments on this post.
Sorry, the comment form is closed at this time.