August 9, 2021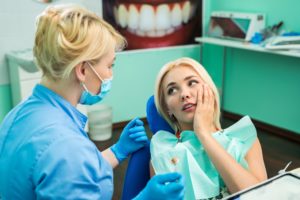 As a child, nothing was more exciting than your first wiggly tooth; however, a loose one as an adult can be quite alarming. Although it's normal for the primary teeth to loosen and fall out, you don't have another set underneath your permanent ones. Since they can't regenerate, and the Tooth Fairy will not come. Your adult teeth need to serve you for a lifetime. If you notice you can move a tooth slightly, you need to act fast. Here's what you need to know to handle the situation to save your smile.
A Loose Tooth is an Emergency
1 in 6 Americans experiences a dental emergency annually. Although they can take many forms, loose teeth are common dental emergencies. Many are caused by a traumatic injury, such as a slip or fall. Others are the results of an untreated dental issue, like tooth decay or gum disease. No matter the cause, it's important to see an emergency dentist quickly to get the care you need. There are also a few precautions you can take at home:
1. Don't Play with the Tooth
When there's something abnormal in your mouth, it's tempting to run your tongue over it or touch it with your finger, but you don't want to play with a loose tooth. Although it can be difficult to resist the urge, it's important to prevent the tooth from moving as much as possible; however, don't use a makeshift splint. Instead, try to forget about the tooth to avoid any wiggling.
2. Watch What You Eat
You don't want to bite or chew with your tooth until after it has been treated. You'll also want to skip any chewy, sticky, or hard foods, which might cause your tooth to break or fall out.
3. Avoid Brushing and Flossing
Yes, you read that right. You don't want to brush or floss a loose tooth because it can make the situation worse; however, you still need to keep your mouth clean. Carefully brush and floss your other teeth and rinse your mouth with a warm salt and water mixture.
4. Call Your Dentist
Your emergency dentist will assess your smile to determine the cause of the instability to prevent needing an extraction. There isn't a "one size fits all" treatment plan because every situation is unique. If an injury was the cause, your dentist may be able to stabilize and repair the tooth. In situations where an underlying problem was the culprit, such as gum disease, your dentist will discuss a customized strategy to rehabilitate your oral health.
They will do everything they can to preserve your tooth, but if it isn't salvageable, they'll explain your replacement options, like a dental implant. Don't wait until it's too late to see your dentist.
About Dr. Joe Kern
Dr. Kern earned his dental degree at The Ohio State University. He regularly continues his training to provide advanced services, like emergency dentistry. If you have a dental emergency, contact our office right away. Dr. Kern will stop your pain and restore your smile.
Comments Off

on Loose Adult Tooth? 4 Tips to Save Your Smile
No Comments
No comments yet.
RSS feed for comments on this post.
Sorry, the comment form is closed at this time.