January 4, 2017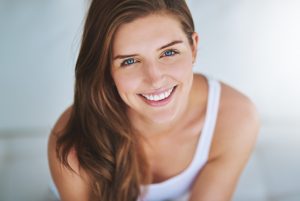 If you're like most people, you want the coming year to be better than the last. One of the simplest ways to accomplish this is to work on yourself, and this often sends legions of people to the gym. There's a much easier approach if you're simply looking to improve your appearance, and you won't have to wait for months to see results. A new smile can do wonders for both your look and your confidence, and requires much less effort to get. Your cosmetic dentist in Grafton, Dr. Joe Kern, is going to share 3 ways he and his team can make you look and feel better than ever in 2017.
1. Make Your Smile Brighter Than Ever
The feeling of seeing a pristine white smile in the mirror every morning will give you a bigger boost than any cup of coffee. We can provide you with a take-home Opalescence whitening kit that will make your smile 10 shades whiter while you simply sit and relax. Our kits are much better than generic store bought ones because they are custom made for each patient, and use professional grade products you can only get from Dr. Kern. This gives you a higher-quality, longer-lasting result that you will be eager to show off.
However, for the person who wants to get these results in much less time, you can also get a complete whitening treatment in our office. It only takes 1 hour, giving you a brighter smile you can instantly share with the world.
2. Instantly Straighten Your Teeth
Crooked teeth can not only make you feel self-conscious about your smile, but they can actually make it much harder to clean as well. Even if you want to get them fixed, you'd usually need to go through years of uncomfortable orthodontic treatment that leaves you with an undesirable mouthful of metal.
Thanks to porcelain veneers, this is no longer your only option. In as little as 2-3 visits (as opposed to 2 years with braces), we can apply custom-designed dental ceramic to your teeth that will make them look instantly straighter. They can completely makeover your smile with one treatment, saving you time while also giving you dramatic results.
3. Repair Your Damaged Teeth
Do you have cracked, broken, or decayed teeth that stick out whenever you smile? Unsightly metal fillings can now be replaced using a tooth-colored composite resin, which not only gives you a much more subtle restoration, but a much stronger tooth as well.
Using all-ceramic crowns, we can repair your severely damaged teeth and make them look completely natural. They are made of a high quality dental ceramic, and restore your tooth's lost structure while blending in seamlessly with your smile.
You can also get a much faster, simple fix using direct bonding. The tooth-colored resin will be applied to your teeth in putty form, which allows Dr. Kern to quickly sculpt away flaws such as cracks, chips, and even small gaps.
Which Treatment Is Right For Me?
Trying to pick the right treatment can be overwhelming, especially if you don't know which ones would actually be best for you. This is completely understandable, and we see patients every day who feel the same way. Dr. Kern will take the time to walk you through each treatment and tell you about their benefits. He'll always make sure that he knows exactly what you want to improve about your smile, and will help guide you in the right direction.
Get Started Today!
It's still early in the year, which means if you come see us today, you still have plenty of time to enjoy your brand new smile. These treatments can usually be completed in a few easy visits, so all you need to do to get the smile you've always wanted is make an appointment with us today.
Want to know more about what makes a smile "perfect" and how we can help you get one? Great! We're always happy to answer your questions, so give us a call today.
Comments Off

on New Year, New Smile with Your Cosmetic Dentist in Grafton
No Comments
No comments yet.
RSS feed for comments on this post.
Sorry, the comment form is closed at this time.