February 11, 2021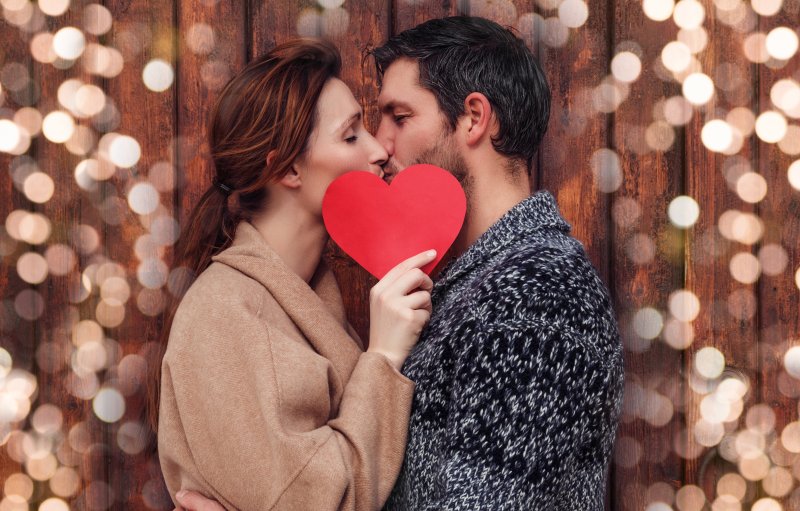 Valentine's Day is just around the corner and will be here before you know it. Whether you are planning on going out for a lobster dinner, or just relaxing with your special someone by the fireplace while watching a movie, you're in for an exciting night. For many, a fun date isn't complete without a kiss. You want to be prepared. If you aren't keeping your oral health in check, you probably won't be as kissable as you could be. Here are some tips to help.
Maintain Your Oral Hygiene
It is important to know that bacteria are ultimately what causes tooth decay. When you are kissing someone else, there is definitely going to be a swap of bacteria, even if you don't want to think about it. You want your mouth to be as clean as possible so that you are reducing the number of bacteria that you are transmitting to your date. Be sure that you are brushing your teeth twice and flossing at least once each day. Rinsing with a mouthwash is another great option. This way, you are your date can share cleaner kisses.
Fight Against Bad Breath
Bacteria is also the number one cause for bad breath, also known as halitosis. There certainly won't be as many sparks flying if your smile isn't smelling too fresh. Try using a mouthwash and chewing on sugar-free gum in order to keep your mouth smelling great throughout the night. They will freshen up your smile and stimulate saliva production.
Don't Share Your Toothbrush
Even if you and your date have been close for a long time, a toothbrush is something that you shouldn't be sharing with each other. Bring your own dental tools so you aren't spreading as many bacteria and viruses between each other.
Consider Teeth Whitening
Confidence helps to make you look more attractive. If you don't feel great about your smile, you won't be showing it off nearly as much. Professional teeth whitening is just one of many ways that patients work to feel greater about their smile. Once you are happy with how you look, that is all that matters.
Don't Use Tobacco Products
In addition to all of the negative effects that smoking has on your body, it is also bad for your smile. It can affect the way your mouth smells and even leave a bad taste in your date's mouth. Smoking also doubles your risk for periodontal disease and is linked to oral cancer. It is best to avoid the cigarettes before and during your date at the very least.
Visit Your Dentist
You should see your dentist every six months for a regular checkup in order to keep your oral health in good shape. If your dentist notices any issues, they can be treated before becoming serious. If you aren't already on track with regular visits, now is a great time to get started!
Set yourself up for success this Valentine's Day. By using the tips listed above, you can be ready for a magical evening with your partner.
About the Author
Dr. Joe Kern is an experienced dentist who has been practicing for 22 years. After attending Case West Reserve University, he earned his dental doctorate from The Ohio State University. For more ways to keep your smile healthy or to schedule an appointment at his office in Grafton, ND, visit his website or call (701) 352-2013.
Comments Off

on 6 Ways to Increase Your Kissability for Valentine's Day
No Comments
No comments yet.
RSS feed for comments on this post.
Sorry, the comment form is closed at this time.