October 24, 2022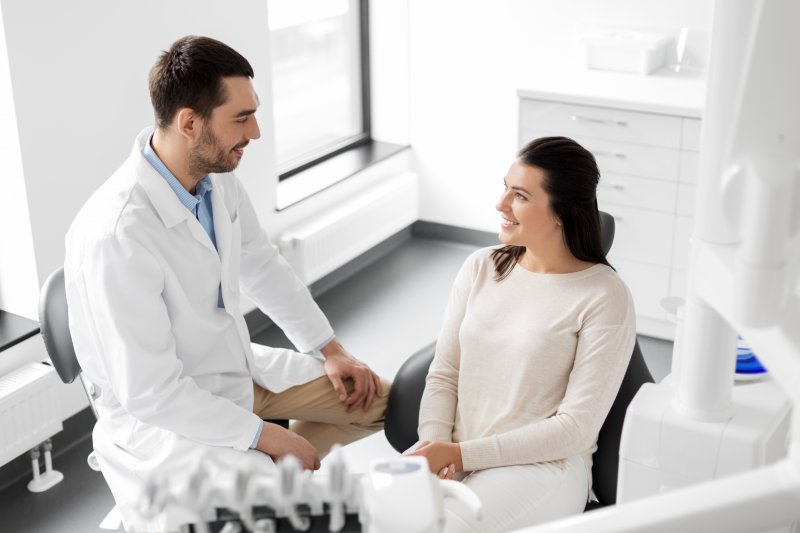 October is famous for Halloween night, but it's also National Dental Hygiene Month! During this month, celebrate with pride by showing how much you care for your smile and continued excellent oral hygiene or taking steps to achieve a healthier beam. You may be wondering: how exactly can you do this? Read on to learn about 4 oral hygiene tips that will help you celebrate National Dental Hygiene Month by taking good care of your pearly whites.
Tip #1: Drink More Water
Drinking water does a lot of good for your body, and that includes your smile. Staying hydrated helps prevent dry mouth, an oral health condition that can lead to cavities, gum disease, mouth sores, and more. Drinking water can also help wash away food particles and bacteria. This will help lower your risk of oral health issues.
Tip #2: Brush Frequently
Brushing your teeth twice per day is one of the most important parts of keeping your smile in good condition. Be sure to brush for two minutes each time. Use a toothbrush with soft bristles to avoid enamel damage. You should also use toothpaste that contains fluoride, which is a mineral that strengthens your smile against decay.
Tip #3: Flossing Every Day
Flossing between your pearly whites is just as important as brushing your teeth. Flossing removes 40% of plaque, which drastically lowers your risk of developing cavities between your teeth. If traditional dental floss isn't a good option for you, consider using a water flosser. These are particularly helpful for people who have issues like arthritis that make it hard for them to use normal floss.
Tip #4: Eat a Mouth-Healthy Diet
Cut back on your consumption of sweet treats since these encourage cavity formation. High-card and starchy foods break down into sugar, so these should also be consumed in moderation. Instead, eat plenty of tooth-healthy foods, such as:
Fresh, crisp fruits and vegetables like pears, apples, celery, and carrots
Low-fat or fat-free dairy products like milk, cheese, and yogurt
Lean meats, such as chicken, lean beef, and turkey
Nuts, such as almonds and Brazil nuts
Tip #5: See Your Dentist Twice a Year
If you don't visit your dentist every six months, now is the time to start. Biannual dental checkups are a key part of maintaining healthy teeth and gums. During these visits, your teeth will be thoroughly cleaned. You will also receive an examination of your oral cavity. If your dentist notices any issues, they will discuss treatment with you to prevent things from getting any worse.
Taking good care of your smile during a month that revolves around candy may sound tricky. But National Dental Hygiene Month is the perfect time to utilize the above oral hygiene tips so you can maintain a lovely smile or achieve the gorgeous, healthy grin you've always wanted!
About the Practice
Dr. Joe Kern is the skilled dentist who heads the team of dental health professionals at Kern Family Dentistry. He offers a wide range of dental treatments, including checkups and cleanings to keep oral health problems at bay or treat them as soon as they arise. Additionally, they can teach you about the best products to use to keep your smile healthy and bright all year long. If you want to set up an appointment with Kern Family Dentistry or are interested in learning more, visit their website or give them a call at (701) 352-2013 today.
Comments Off

on 4 Oral Hygiene Tips for a Healthier Smile
No Comments
No comments yet.
RSS feed for comments on this post.
Sorry, the comment form is closed at this time.