September 4, 2021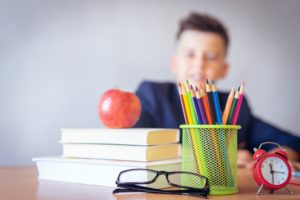 As children across the country head back to the classroom, their bodies rely on a nutritious lunch to get through the day. Over the last 10 years, there has been national attention regarding the debate of childhood nutrition. As a result, many schools have made several changes to their daily menus to teach children to eat healthier. Although the foods on their lunch tray might be good for their diet, what about their smiles? Here's the truth about school lunches and what they can do to your child's dental health.
Common Cafeteria Lunches
Many families rely on cafeteria lunches, whether out of convenience or finances. No matter the reason, you know their lunches will include a few common choices, like chocolate milk. While they can be found in cafeterias around America, here's how each one can contribute to dental problems.
Chocolate Milk
Milk is a vital source of calcium and vitamin D, which are necessary for strong bones and teeth. Unfortunately, many children don't like the taste of plain milk, so sweeteners and flavors are added to make it more appealing to children.
According to a 2014 article in the LA Times, 99.1% of cafeterias in the U.S. give out chocolate milk. If your child drinks it regularly, they are bathing their teeth in cavity-causing sugars. If they just can't resist it, cut their sugar intake in other areas, or encourage them to drink it every other day.
Canned Fruit
Canned fruit can be a great source of vitamins and minerals to support a healthy mouth and body; however, many contain added sugar. Instead of using water, many packaged fruits rest in a thick syrup or natural juices. Although they may add flavor, they don't have any nutritional value. Not to mention, their sugar content can increase the risk of cavities. Instead of canned fruit, pack a piece of fresh fruit in their backpack. Their smile will appreciate the switch.
Home Sack Lunches
If your child takes their lunch to school, it's easier to control the foods they eat. As you plan their meals, it is best to avoid a few common favorites, such as:
Peanut Butter and Jelly Sandwiches
Peanut butter and jelly sandwiches are a staple of childhood. Sadly, the stickiness of the bread, peanut butter, and jelly can erode enamel. They also contain a lot of sugar, which further contributes to cavity-causing bacteria. It's best to choose whole-grain bread and use sugar-free peanut butter and jelly.
Whether your child takes a sack lunch or gets food from the cafeteria, encourage them to drink plenty of water throughout the day. They'll stay hydrated while keeping their mouth clean in between brushing and flossing.
About Dr. Joe Kern
Dr. Kern earned his dental degree at the Ohio State University. He has over 22 years of experience in the dental field. Dr. Kern strives to improve the value of his patients' smiles. If your child needs a back-to-school cleaning and checkup, contact our office today for an appointment.
Comments Off

on Are School Lunches Bad for Young Smiles?
No Comments
No comments yet.
RSS feed for comments on this post.
Sorry, the comment form is closed at this time.