June 7, 2023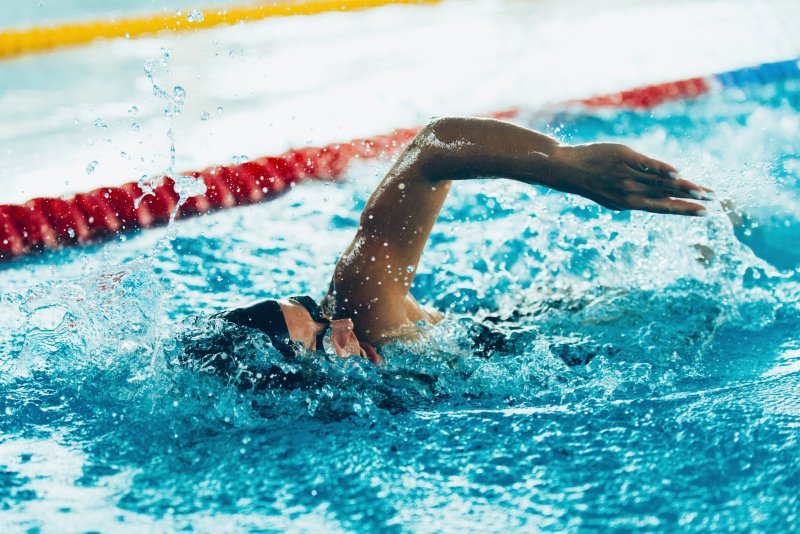 There's no better way to beat the summer heat than with a dip in the pool, which is why every public swimming hole you're likely to visit this time of year is absolutely packed. Swimming is great exercise, and can be fun for every member of the family.
However, if you swim often—or even as a sport—you may be a little bit concerned about how that could affect your teeth. As it turns out, there are some things worth thinking about. Here are some potential oral health hazards that can come with swimming.
Sensitivity
If you have a pool at home, you're probably aware that chlorinating it properly takes a little bit of work, and it can be easy to mess up sometimes. If you swim in an improperly chlorinated pool, you may wind up dealing with a little bit of tooth sensitivity, in addition to the other effects that too much chlorine can have on your skin and hair.
This is yet another reason to take your time and make sure you're treating your home pool properly.
Swimmer's Calculus
In dentistry, a calculus is a thin film of residue on your teeth that has hardened and connected together. You may get one if you spend too much time in a chlorinated pool, something like over six hours a week.
This is called a Swimmer's Calculus, and it can turn your teeth yellow or brown if one forms on your teeth. If you notice one, you should talk to your dentist about coming in for a thorough cleaning.
Injuries
Pools aren't all that dangerous if you're careful, but not everybody is. Running by the pool and diving in places you aren't supposed to are both easy ways to end up with a serious injury, including mouth injuries.
Even if you're being cautious, at public pools you face the hazard of other swimmers bumping into you or suddenly coming up from the water. For that reason, it's a good idea not only to follow the pool rules closely, but to be aware of your surroundings while swimming.
If this is a constant hazard for you, you may even want to ask your dentist about being fit for a sports guard to protect your teeth.
About the Author
Dr. Joe Kern has been working as a dentist for over 20 years, and in that time he's perfected the ability to offer his patients comfortable, high-quality care. When he comes to work, there's nothing he loves more than being able to help his patients smile! Dr. Kern received his degree from The Ohio State University, and in the years since he has remained committed to continuing his education.
If you have any questions about how to protect your oral health as a swimmer, he can be reached at his website or by phone at (701) 352-2013.
Comments Off

on Swimming and its Hazards to Your Teeth
No Comments
No comments yet.
RSS feed for comments on this post.
Sorry, the comment form is closed at this time.