April 16, 2020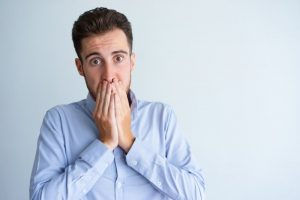 Dental crowns are versatile tooth-shaped caps that can repair or strengthen a tooth for 15 years or more. However, these durable solutions are not invincible. A dental injury from a contact sport or a bad habit like chewing on pen caps can suddenly damage or knock loose your dental crown and expose the vulnerable tooth underneath. To help you stay calm in this potentially scary situation, your Grafton dentist explains what steps you need to take if your dental crown breaks or falls off.
Step One: Protect & Inspect Your Smile
As soon as you can, get to a mirror and take a close look at your mouth, teeth, and damaged dental crown. Remove any broken pieces or the detached crown to prevent accidentally swallowing or biting down on them. If your crown is still on your tooth, but it is very loose and you're not experiencing any pain, you may want to preemptively take it out of your mouth.
Next, examine your tooth and any remaining parts of your crown. Have either been chipped or cracked enough to create sharp edges that can cut your soft tissues? If you need to, you can carefully run your tongue over the area to gauge tooth sensitivity and any rough patches.
Step Two: Call Your Dentist
Since a dental crown is designed to protect or strengthen teeth that are weakened, broken, or vulnerable to decay, it's important that the damage is addressed right away. However, you don't need to immediately rush to your emergency dentist if your dental crown falls off or breaks. Call your dentist as soon as you can and explain your circumstances in as much detail as possible. They'll determine whether your situation is a dental emergency that needs urgent care or if you can wait a few days for treatment. Once your appointment is set, they'll also be able to give you personalized first aid guidance over the phone.
Step Three: Managing Discomfort & Preventing Damage
As you wait for your dental appointment, gently rinse your mouth out with a warm glass of saltwater to keep bacteria away and soothe any irritation. Until you reach your dentist's office, you can manage discomfort and prevent further damage by:
Concealing jagged edges: Sharp edges on a broken dental crown can easily cut your cheeks, gums, or tongue. Try covering these sharp areas with dental wax or a piece of sugarless gum.
Mitigating tooth sensitivity: If the newly exposed parts of your tooth are sensitive, you can cover them with dental wax or sugarless gum. For further relief, take over-the-counter pain killers as directed.
Chewing carefully: Even if you're not experiencing any discomfort, protect your vulnerable tooth from further damage by chewing exclusively on the other side of your mouth.
Thankfully, it's unlikely that your dental crown will break or fall off. However, if you do find yourself in this scary situation, these steps can help you get back to enjoying your happy, healthy smile in no time!
About the Author
Dr. Joe Kern of Kern Family Dentistry in Grafton, ND has over two decades of experience in the field of dentistry. He is proud to offer his patients the excellent dental care they deserve with the latest techniques and technologies, like CEREC same-day dental crowns. With high quality materials and state-of-the-art machinery, he can design, create, and place a custom dental crown all in one day. If you have a broken or missing dental crown, don't hesitate to contact him via his website or (701) 352-2013.
Comments Off

on What Do I Do If My Dental Crown Breaks or Falls Off?
No Comments
No comments yet.
RSS feed for comments on this post.
Sorry, the comment form is closed at this time.