August 8, 2023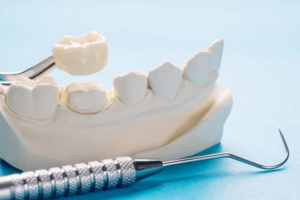 Dental crowns have been used for generations because of their versatility and effectiveness. Nowadays, crowns are made of all-ceramic materials to blend in with your real teeth. If your dentist has recommended a restoration, it's normal to have concerns about the road ahead. Here's what you can expect as your dentist prepares your tooth for a crown.
Why is a Dental Crown Necessary?
A crown is a customized cap that's placed over a tooth. It will cover the entire surface down to the gum line. It's made of durable materials and carefully crafted to look and feel natural. Crowns offer various benefits and can be used to:
Protect a Weak Tooth
Repair Breaks or Fractures
After a Root Canal
Support a Bridge
Improve Aesthetics or Function
Dental Crown Process
The process of getting a crown requires a little dental work, but you don't have to worry about a painful day in the dentist's chair. Here is what the procedure will look like:
Consultation: You'll have an initial consultation with your dentist, who will examine your mouth and perform diagnostic services, like X-rays. They'll create a personalized treatment plan and schedule you for the first phase of your procedure.
Preparation: Your dentist may administer a local numbing agent to block any discomfort. You may feel some unusual sensations or pressure, but you will not have any outright pain.
Additional Procedures: Crowns can be used along with other procedures, like root canal therapy. Your dentist will perform any preparatory procedures before prepping your tooth for the restoration.
Tooth Shaping: Special dental instruments are used to reshape your tooth to allow the crown to fit over it.
Impression: Your dentist will take an impression of your mouth, which will be sent to the dental lab. They will carefully craft your restoration to ensure the precise fit.
Temporary Crown: Your dentist will place a temporary crown over your tooth to protect it while you wait for the lab to finish your final restoration.
Final Crown Placement
In a couple of weeks, your crown will be sent back to your dentist and you'll return to have it bonded to your tooth. They will remove the temporary restoration and clean your tooth before applying dental cement. Your crown will be placed over your tooth and your dentist will check your bite. You'll walk out of the office with a high-quality crown that looks natural.
Your restoration can last for 10 years or more with the right care. Keeping your teeth and gums healthy will ensure your investment thrives for a decade or longer.
About Dr. Joe Kern
Dr. Kern attended The Ohio State University to earn his dental degree and has regularly continued his training since graduation. He provides the latest solutions in dentistry to create healthy, beautiful smiles. Request an appointment through his website or call (701) 352-6881.
Comments Off

on How Do Dentists Prepare Teeth for Crowns?
No Comments
No comments yet.
RSS feed for comments on this post.
Sorry, the comment form is closed at this time.