January 18, 2021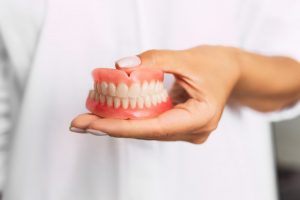 Trying to figure out which type of denture adhesive you should use can be overwhelming. With all of the different options available, it can be difficult to decide which one will best improve the stability of your smile. That's why we've put together this quick little guide to denture adhesives. Let's talk about the three main types and how you can determine which one is best for you.
Types of Denture Adhesives
When you walk into the oral care section of your local drugstore, you can find all sorts of products designed to help people with dentures feel more comfortable in the security of their prosthetics. Picking out which one to use isn't always easy. That's why it's important to know how each choice works.
Creams
This is probably the most popular method of stabilizing dentures. When your dentures are clean and dry, use a Q-tip to apply a thin layer of cream around your dentures' edges (avoid the middle). Insert your dentures into your mouth and firmly press down. It should start working almost immediately.
Strips
Denture adhesive strips are often considered quick and easy to use. After cleaning and drying your hands and dentures, peel open a strip and lay it along the center of your denture. Swish some warm water around in your mouth, then attach your denture to your gums and press it into place.
Powders
Make sure your dentures are clean and then wet them with warm water. Sprinkle the powder along the denture's underside. After shaking off any loose powder, put them in place and hold for a few seconds.
Which Denture Adhesive Is Right for Me?
Each type of denture adhesive has its own set of pros and cons, so how can you decide which one you should use? Ultimately, the decision is up to you. All three options are great at keeping your dentures in place all day long, giving you the confidence to eat, speak, and smile in front of others.
Here are some benefits of each type to keep in mind:
Denture strips are an easily applied, mess-free solution that doesn't come with any unpleasant textures.
Denture creams minimize gum irritation and don't use any zinc (too much zinc has been linked to medical problems). They can also prevent up to 74% of food particles from getting into your denture's crevices.
Denture powders are also zinc-free and generally last the longest, with some powders providing 12-hour security.
If you're still not sure which solution is right for you, you may want to try out each one and give it a test drive. In the end, the decision is yours. Just choose the one that makes you feel the most confident in your smile!
About the Author
Dr. Joe Kern obtained his dental doctorate from The Ohio State University. He has been practicing dentistry in Grafton, ND for more than two decades. He offers full, partial, and implant dentures, and will be more than happy to help you determine which type of denture adhesive is right for you. To learn more, contact Kern Family Dentistry at (701) 352-2013.
Comments Off

on Which Type of Denture Adhesive Is Right for Me?
No Comments
No comments yet.
RSS feed for comments on this post.
Sorry, the comment form is closed at this time.