April 28, 2023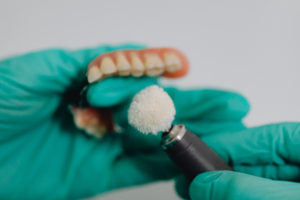 New materials and technologies allow dentures to fit more comfortably than ever before. However, there will come a time when your dentures start to slip. Your jawbone and gum tissues will change shape over time. Your dentures won't adapt to the changes, which can cause slipping and irritation. Regularly relining dentures is necessary for maintaining a snug fit. Although you can purchase OTC kits, here's why it's better to leave the adjustments to professionals.
Why Do Dentures Need to be Relined?
Missing teeth cause bone loss, which alters the shape of your mouth over the years. As the ridges in your mouth and gums change, your dentures may not fit as well as before.
This can make it difficult to chew certain foods, which can cause you to limit them from your diet. Your dentures may slip, causing inflammation, irritation, and sores. You can be at risk of infections that can affect your oral and general health. Poorly fitting dentures are also linked to an increased risk of oral cancer. Not to mention, you can shorten the lifespan of your denture.
An adhesive can help hold your teeth in place, but it's not something you should rely on daily. Instead, it's best to see your dentist to have your dentures adjusted.
Leave Adjustments for Professionals
You can purchase over-the-counter kits to reline your dentures. Although they are handy, they can damage your denture. They can also make slipping and irritation worse. Instead, it's best to leave the mending for dental professionals.
Your dentist will take an impression of your mouth to determine where adjustments are needed. Acrylic material can be added to your denture to restore a snug fit. The dental lab will reline your denture with the utmost precision to ensure the best results and to get the most from your investment.
Consider Adding Dental Implants
If you're ready to say goodbye to slipping and irritation for good, ask your dentist about adding the support of dental implants to your dentures. An average of 4 to 10 dental implants are surgically placed into your jaw to serve as new tooth roots. Your denture will be anchored to your bone for unmatched support and stability. With over a 95% success rate and a life expectancy spanning decades, you'll never have to worry about adjustments or replacements again.
Your dentist will explain all your options to find the solution you need to rebuild your smile. No matter the method, your new teeth will closely look and feel natural.
About Dr. Joe Kern
Dr. Kern earned his dental degree at Case Western Reserve University and has regularly continued his education in many specialties, including restorative dentistry and dental implants. He has the qualifications and reputation you can trust to replace your missing teeth. Request an appointment online or call (701) 352-6881.
Comments Off

on Can I Reline My Dentures Myself?
No Comments
No comments yet.
RSS feed for comments on this post.
Sorry, the comment form is closed at this time.